Deadly rumbles, strike from the sky! Heaven Thunder!
The other day I ran across a GPO publication, specifically a pamphlet printed in 1955 under the authority of the 84th Congress, after the ratification of Wright Patman's House Concurrent Resolution 85. It's called "Our American Government". Here's a picture.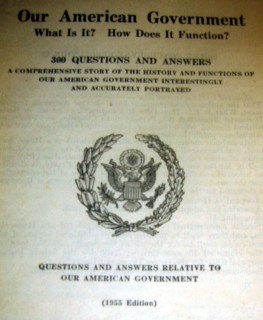 As you can see, the cover of the pamphlet clearly states "…our American government interestingly and accurately portrayed" (emphasis mine).
I have the pamphlet for the same reason I am the proud owner of a monstrously ugly (and surprisingly well-fitting) plaid suit with matching vest: my aunt is in the process of clearing out some of the copious amounts of junk that have accumulated over the years in the house where my grandmother lived. Some of said junk is decidedly more choice than the rest, and I'm not above rescuing it from the recycle bin though God knows I certainly have enough useless junk of my own accumulated already.
(Incidentally, the pamphlet was, back in its day, part of the materials that my grandparents used to study for their citizenship exam. But I digress.)
Anyway, as a point of comparison, here is the full text of the 2000 edition of "Our American Government", printing authorized by the 106th Congress. What do you see on the front page? For one thing, you don't see any snazzy eagle designs, but that's just because this text-only version has GRAPHIC(S) NOT AVAILABLE to it. For another thing, though, you don't see any mentions about being interesting. Or accurate, for that matter.
Both 2000 and 1955 have the same general format, basically acting as a FAQ for the Federal government. Each gives the reader a good sense for the workings of the three branches and the two cameras and whatnot, and both editions mention the elaborate system of bells installed in the Capitol and throughout the several House office buildings.
The 2000 edition even soundly thrashes the 1955 in its inclusion of full texts of the Declaration of Independence and the Constitution (including all Amendments) as appendices, but it has some failings of its own — for one thing, the number of questions answered is down from 300 to 178! Some of this can be explained by the merging of some sets of related questions into a single answer, but that can't hide the fact that 2000 just has less information than 1955 did. The inclusion of the Constitution is all well and good and commendable, but it's reprinted here and there and everywhere — I've literally never been unable to find the text of the Constitution when I needed it. It seems to have been included here at the expense of some very important (and interesting) information.
Information like this:

Is Abraham Lincoln the only President to have been born in a log cabin?
No. Presidents Jefferson, Jackson, Fillmore, Buchanan, Garfield, and Arthur were all born in log cabins.
Song of the Moment: «My Friend Dario» — Vitalic